STRINGS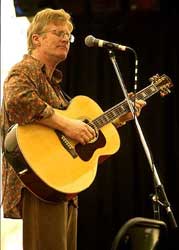 I'm not incredibly fussy over string brands as they last very little time with the way I play & sweat.
They certainly last better in winter than summer anyway!
I like the sound of 80-20 Bronze, but they tend to go dull quicker than Phosphour Bronze – my usual choice.
For live work I use Fender usually – they have a nice tension & last well.
They're also not incredibly expensive.
Darco (the cheap Martin brand) is another good one for live work.
In the studio I tend toward Martin or D'Addario & often vary the gauges .12 - .52 .53 or .54.

PICKS
For flat picks I use Jim Dunlop .73 or similar, but most of my playing is with a thumbpick & bare fingers (they get sore sometimes too!!).
I love the Poppicks heavy gauge – or a plectrum shaped thumbpick that bites into the thumb & doesn't move around.
I do a lot of upstrokes with thumbpicks so they need to be light.
RECORDING
All the acoustic recordings I've done lately have been approached the same way basically – put a good microphone in the best spot & record it with as little tampering with as possible.
It works on the principle that a totally natural recording can be played around with in the mix, but undoing something can be extremely difficult if not impossible.
Paul Cheeseman recorded two of my CD's mainly (I did some on 'Two Roads' but Paul mixed them anyway). There's a link to Paul on the Links page & he is a bit of a whiz when it comes to recording.
One thing I do try and avoid at all costs is using compression in the recording process.
It is one thing that can't be undone (effects as well!) & all through the mixing, mastering & playback to air processes, compression can have the effect of turning everything into a formless sort of mush.
Radio & TV use outrageous amounts of compression so the less used in recording (or at least the less audible it is), the more the listener can enjoy a natural sound rather than hearing something squeezed through a wet sponge.
I love long reverb on acoustic guitar although I have great respect, bordering on fear, of using too much.
Unfortunately the quality of reverb seems to be directly relevant to the cost of the reverb unit, & hearing lots of 'bad' reverb can really damage the quality of an acoustic guitar – not to mention giving the listener the impression they're listening to you play in an empty basketball stadium.
One thing I do love about modern recording is the ability to record at home thanks to modern low cost digital gear. Of course, some nice valve amps can help too, but being able to record without the 'time is money' equation can do wonders for developing songs & their performance. My 'The Back Shed' CD was done with only an Adat, a four channel Mackie & a reverb unit. (Some might say 'it sounds like it too', but it meant I could record when I pleased & at all hours of night & day).