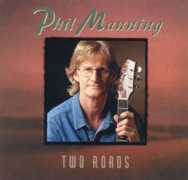 Manning the cutting edge
Blues CD of the Week
Is it possible to have the serious, low-down blues in Australia? Well, why not? On this remarkable recording, Phil Manning (if you are old enough you may remember him as the lead guitarist of Chain) has the daring to put some very tasty and traditional blues licks cheek-to-jowl with such overtly Aussie sentiments as "When I left from Sydney I was miles from my childhood home … No money in my pocket and my feet hot on the ground / I jumped a freight at Kempsey / On my way to Brisbane town."
The result is not, as you would expect, high incongruity. Rather it is an acknowledgment that, while the blues may be rooted in the experience of African Americans, it is now a part of the musical vocabulary of people all over the world.
This is not some kind of lame-brained, white-boy defence. Recently B.B. King, citing blues players as diverse as Nathan Cavilleri and groups in Germany and Holland, claimed that the most interesting contemporary blues is being played by white boys. The argument is that mainstream blues has been overwhelmed, particularly in black urban society, by rap and that blues and R&B have become international forms of musical expression.
All this being said, then Phil Manning, quite late in his career, is suddenly at the cutting edge of modern blues. This acoustic recording is a total delight. The playing is exceptional — lots of very, very good dobro, 12 string and "resophonic" guitar. The songs work through sheer daring, a profound understanding of the narrow themes of the blues, and a preparedness to see Australia as a legitimate subject for a blues song. Thus, across 16 tracks, there are references to water across the road at Coomera, a love song in which he declares "I miss her from my caravan", a song called Dingo Moon (a neat joke on the old blues standard Black Cat Moan) and an entire song — part blues, part folk song — devoted to the Port Arthur Massacre.
This is an outstanding album of finely crafted, blues-tinged songs performed with virtuosity and genuine passion.